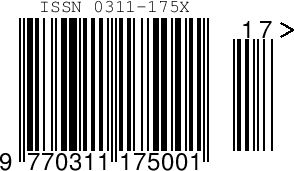 4 ISSN Barcode Images
4 ISSN Barcode Images
You will receive graphic files containing ISSN barcode images, which will be generated from the ISSN number of your magazine, newspaper, journal, periodicals and on all media print.
You will receive ISSN barcode image in EPS, PNG, JPEG and TIFF formats.
These barcodes can be used Worldwide.
When ordering, please forward us the ISSN number of your journal, magazine, newspaper or other media print. The barcode artwork will then be generated from this number.
If you would like us to send you a barcode which has supplement digits at the end (like in the image above), then please let us know when you make your order (no extra charge for this service). We can either send you a 2-digit or a 5-digit supplement number barcode. Supplement numbers are normally used on some magazines to represent the issue number of the magazine.
If you do not specify any supplement digits within your order, or via email, we will only send you a ISSN barcode without a supplement digit barcode.
All orders are sent via email within 24 hours (most orders are sent within a few hours).
Any questions of any kind relating to barcodes, please do contact us.